Every woman out there wants to be with a man who will genuinely love her, care for her, and cherish her for the rest of their lives. However, then why do some women always let the nice guys go and end up being with men who are not so nice? This open letter is for that girl who let the nice guy go, someone who could have given her the love she is looking for.
To The Girl Who Let The Nice Guy Go,
It's not like you didn't know who he was, or rather how he was. He was always honest and open with you. He was never scared of being vulnerable in front of you. Do you know why? Because he trusted you with all his heart and did his best to give you the happiness he thought you deserved.
A nice guy like him always tries to do the right thing, sometimes even at his own expense. He was always there when you needed him, when you needed a shoulder to cry on, when you needed to vent out your frustration after having a bad day, when you needed someone to hold you, and when you needed some love and care.
Related: 18 Things That Happen When You Date A Nice Guy After An Abusive Relationship
These days, most people wear masks to get through life; they are so scared of other people seeing their true self that they turn into people they are not. But the nice guy never did that. He was proud of who he was and he always showed his authentic self in front of you. Because he believed that you were not like other people, and you won't hurt him.
The idea of love has become so twisted these days, that we let the nice people go but try our best to stick to the ones who keep on hurting us and who don't deserve our love. You want true and unconditional love, but you end up chasing the bad guys, who could care less about you. They only care about the fact that you are stroking their ego by running after them.
When you let a good guy go, you are also letting go of a happy, stable, and secure future. Sure, right now being with a bad guy seems exciting, but 10 years down the line, you'll realize that it's not him you should have been with; he will never give you what are looking for. He will only waste your time and break your heart ultimately.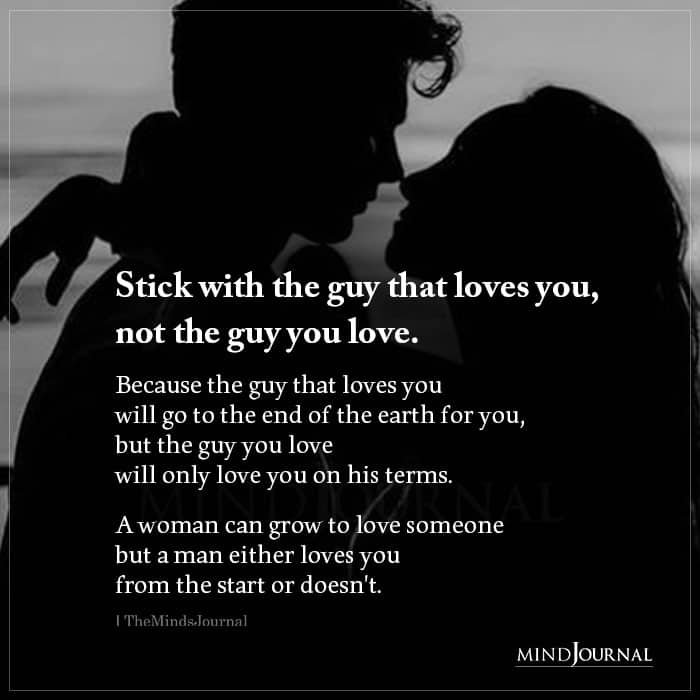 So, if your ultimate goal is to settle down, why are you playing with a nice guy's feelings, and running behind the wrong sort of guys?
If you are only interested in flings and one-night stands, you need to leave the nice guys alone and get involved with the ones who also want the same. If you want to be the girl who let the nice guy go, then so be it, but at least don't end up destroying him.
Most women tend to get attracted to men who are damaged and emotionally unavailable. This is because the former believe that they can fix the latter and mold him into their dream partner; they think that they will be able to change them for the better, and therein lies the challenge.
Related: Why Girls Hate 'Nice' Guys
But the nice guy is already stable and happy in his life. He has worked on his issues and he knows how to handle his emotions in a healthy way. He is done with unhealthy and toxic relationships and there's nothing you have to "fix" in him. And that's what's boring for you, isn't it?
Being with a jerk might be fun for some time, but you can't hope to spend your life with a man like him. Yes, I understand that you went through a lot of pain in the past, but heartbreak is always a possibility when you take a chance with love.
Just because your exes did not treat you in the right way and did not give you the respect you deserved, you have closed yourself off from serious relationships. Now all you do is hurt yourself before someone else hurts you, hence the numerous one-night stands and casual relationships.
You might even justify your feelings for the jerk by saying, "There's something about him that makes it hard for me to stay away from him. He's so charming and sexy!" However, these are the very qualities that have hurt you in the past and will hurt you again in the future.
So, what did you do? You tried your best to push the nice guy away from you. Because you're not used to kindness and true love, you don't know what to do with it. Every time he didn't give up on you, you pushed him away more and more. And every time, he pulled you in even more.
He didn't let your fears control you and always showed you that he is not like the other guys you have dated in the past. He fought for you every step of the way, and never let you give up on yourself. He fought for your dreams and passions whenever you felt you were not good enough to pursue them.
He forced you to grow into the person you are meant to be, and he pushed you harder toward your dreams. He took care of you, protected you, respected you, and most importantly, loved you with all his heart.
And then you left him because he was "too nice" for you.
Related: Why Nice Guys Lose In Dating
He gave you everything you were looking for and made life feel easy and happy again. And that scared you. You had become so used to hardship, pain, conflict, and drama that peace and stability threw you off. It seemed unfamiliar and scary and thus, you sabotaged the relationship.
Now the thing is, the nice guy has also gone through his fair share of pain and heartbreak before, but he did not let that change who he is. He did not let that turn him into someone who treated the right people badly, and the wrong people properly. He learned the hard way that life is full of ups and downs, and he chose to focus on the former more than the latter,
So, he did not stop you when you chose to leave him and walk away. He loved you and that's why he let you go. Love for him is not control, and that's why he didn't try to cling to you when he clearly saw that you wanted to leave.
But what you didn't realize is that one day, he is going to find someone who won't treat him the way you treated him, because she won't be foolish and self-destructive as you. By the time you realize that at the end of the day, all you wanted was a decent and loving guy who will respect you and love you with all his heart, it will be too late.
Someone else will see what a gem of a person he truly is, and she won't waste a single minute in giving him the love and companionship he truly deserves.
He might have loved you too much too soon, but men like him don't come into your life that easily; once you lose them, you lose them for good. Now, after you have realized what you have truly lost, it's too late for you to go back to him because he has finally moved on from you and is with someone who knows how priceless guys like him truly are.
Related: The 'Nice Guys' Were A Turn Off To Me, But Now I Can't Get Enough Of Them
He was the one you were supposed to spend your life with, the guy who made everything better. But unfortunately, you became that girl who let the nice guy go. I so wish that you had understood his value then, instead of now.
From,
The Girl Who Was Too Late
Want to know more about the reasons behind the girl who let the nice guy go? Check this video out below!
---