Having good friends and unbreakable friendships in life is truly a blessing, and it's something that not a lot of people are lucky to experience. Just like every other relationship, having and maintaining strong friendships also needs a lot of effort, honesty, and most importantly, certain rules.
Unbreakable friendships are those which feel like family, and these friends make you feel like you have known them forever. Having a friendship like this in your life comes with a lot of responsibility because if you don't give it its due respect and effort, it will just be a matter of time before it ends and leaves you with a painful void in your life.
Even though every strong and unbreakable friendship is based on more or less the same values, like mutual respect, honesty and trust, there are some more rules keeping in mind which can make sure that no challenging situation can put a dent on it.
Related: 13 Signs You Have Emotionally Intelligent Friendships
8 Rules For Having A Strong And Unbreakable Friendship
1. You support one another through thick and thin.
No matter what life throws at you, you always stand by each other through it all and refuse to let the other person go through any of it alone. If your best friend is nervous about giving her first presentation at work, you keep on motivating them the whole time. If you don't feel well and are down with the flu, they will be the first ones at your door holding hot chicken soup for you.
Real friends always support each other no matter what, and the best part is, you don't even have to ask them for it. They will always be there whenever you will need them the most in your life. Authentic friends will always go the extra mile for you and will be your biggest cheerleader.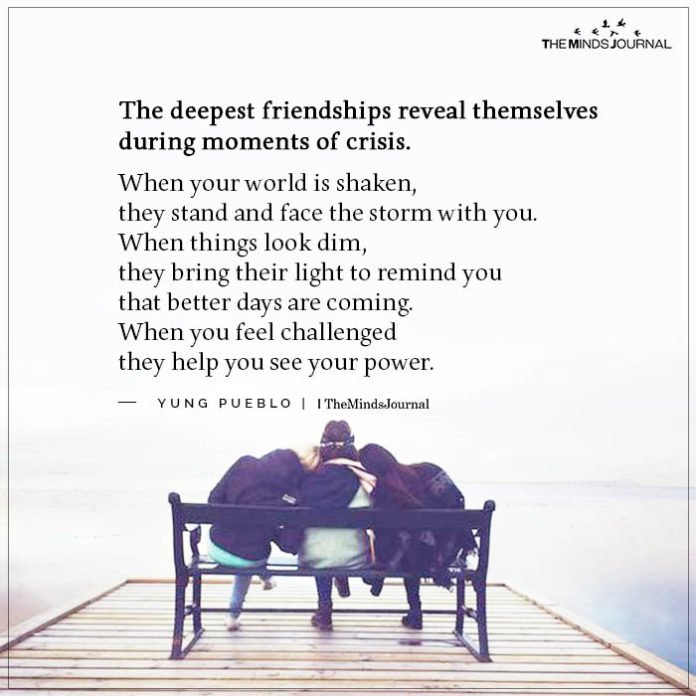 2. You never judge each other.
Everyone makes questionable choices and mistakes in their lives at some point, and while most people might judge and shame you for them, your best friend will never. They will try to understand why you did what you did and then stop you from making the same mistake again. But the one thing they will never do is judge you at the drop of a hat.
As best friends you might stop or discourage each other from making the wrong decisions in life, but you never make the other person feel shameful for their actions. You know that they are not perfect, and that's why you never fail to treat each other with kindness and respect.
3. You never try to change each other and accept your best friend the way they are.
One of the strongest pillars of unbreakable friendships is mutual acceptance. A true and real friend will never try to change who you are just so they can feel better about themselves. Rather, they will accept and respect the differences between you two and still love you the same way.
Feeling seen, understood, and accepted are very important in friendships, and if you get to experience all of this in your friend, then be rest assured you have hit the friendship jackpot! If you ever feel like you cannot be your authentic self in front of your best friend, then it's just a matter of time before the friendship breaks down.
Related: 11 Things That Are True Only For Genuine Friendships
4. You can depend on them for speaking the truth.
Strong friendships are based on honesty and trust, and if it's not then you can't call it a real friendship. You know you have an unbreakable friendship when you never feel the need to lie to each other, or even twist the truth in order to make them happy. Whatever is in your heart, you can openly tell them without any fear of getting blasted by them.
That does not mean you will insult and put each other down every chance you get. What this means is that if there is some bad news, you can rely on your best friend to tell you that with full honesty. If you are on the verge of making a mistake, you can rely on them to tell you the truth and why you shouldn't do what you were about to do.