Manipulators use a plethora of diversionary tactics that distort the reality of their victims, which ends up making them feel confused, lost, and even makes them believe that THEY are at fault, and not the abuser.
Many of us don't even realize when we're being manipulated. We may have an uneasy feeling in our gut that doesn't match the manipulator's words or feel trapped into agreeing with a request. Most people react in ways that escalate abuse or play into the hands of the abuser and feel small and guilty, but retreat and allow unacceptable behavior. If you had a manipulative parent, it might be harder to recognize in a partner, because it's familiar.
Ancient wisdom to "know your enemy" is essential when dealing with a manipulator. Being able to spot these hidden arrows allows you to respond strategically to covert manipulation. Understanding what they're up to empowers you.
Related: Dehumanization: A Narcissist's Ultimate Manipulation Tool
When people behave passive-aggressively, what appears passive or defensive is covert aggression. It's debatable to what extent their behavior is conscious or unconscious. To the victim, it doesn't matter. The effect is the same. Being overly empathetic puts you in jeopardy of being mistreated again and again. When someone attacks you overtly or covertly, they're being aggressive.
Psychologist George Simon argues that these covert manipulators intentionally say and do things to get what they want―for power and control. For people character logically disturbed, such as sociopaths and narcissists and some people with borderline personality disorder, he maintains that their tactics aren't unconscious in the way that defense mechanisms normally operate. However, their behavior is so habitual that over time it becomes reflexive. They don't even think about it but are still conscious of it.
Goals Of A Manipulator
The goal of all manipulation is to gain influence to get our needs met, but habitual manipulators do so for power and control and use deceptive and abusive methods. Manipulators maintain domination through continuous, recurring, emotional manipulation, abuse, and coercive control.
Often they're passive-aggressive. They may lie or act caring or hurt or shocked by your complaints―all to deflect any criticism and to continue to behave in an unacceptable manner.
In maintaining control to do what they wish, manipulators aim:
1. To avoid being confronted.
2. To put you on the defensive.
3. To make you doubt yourself and your perceptions.
4. To hide their aggressive intent.
5. To avoid responsibility.
6. To not have to change.
Eventually, you are victimized and can lose trust in yourself and your feelings and perceptions. Gaslighting is a treacherous, disabling form of manipulation.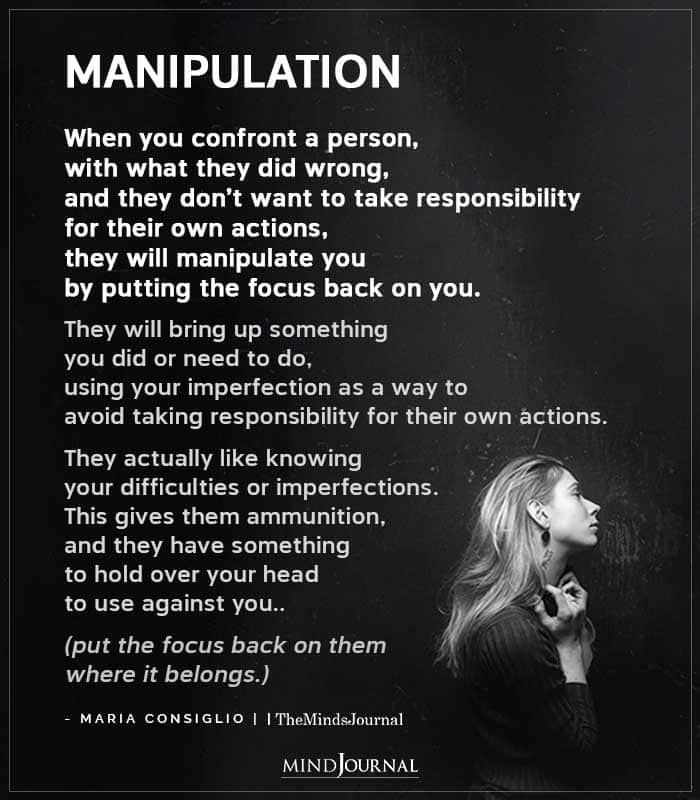 Covert Manipulative Tactics
Manipulation may include overt aggression, such as criticism, narcissistic abuse, and subtle forms of emotional abuse.
Favorite covert weapons of manipulators are guilt, complaining, comparing, lying, denying, feigning ignorance or innocence (e.g."Who me!?"), blame, bribery, undermining, mind games, assumptions, "foot-in-the-door," reversals, emotional blackmail, evasiveness, forgetting, inattention, fake concern, sympathy, apologies, flattery, and gifts and favors.
Related: Manipulation Of The Charming Narcissist
See "How To Spot Manipulation." Typical Tactics Are Described Below:
1. Lying
Habitual liars sometimes lie when it's unnecessary. They aren't lying because they're afraid and guilty, but to confuse you and do what they want. Some simultaneously put you on the defensive with accusations and other manipulative tactics.
Lying may also be indirect through vagueness and/or omission of material information though everything else said is true. For example, a cheater might say he or she was working late or at the gym, but not admit to an adulterous rendezvous.
2. Denial
This isn't denial that's unconscious, like not realizing you've been abused, have an addiction, or are avoiding facing difficult truths. This is conscious denial to disclaim knowledge of promises, agreements, and behavior. Denial also includes minimization and rationalization or excuses.
The manipulator acts as if you're making a big deal over nothing or rationalizes and excuses his or her actions to make you doubt yourself or even to gain your sympathy.