Such resignation is a prescription for prolonged mutual misery.
If you've ever been on either side of this type of impasse, you know how painful it can be and how strong the impulse is either to explode with frustration or just shut down or withdraw. You may have been the one who was unable to get your partner to talk, or maybe you've experienced feeling pressured to open up and talk about your feelings when the only feeling you had was "Leave me alone." Either way, you're not alone—and there are steps you can take to interrupt the impasse.
Related: 6 Ways To Improve Communication In A Relationship
A key step is to create a safe, non-blaming context for the conversation that enables both partners to feel trusting and safe enough to listen and respond non-defensively.
Even the most resistant partner will become more open and engaged when the threat of attack is no longer present. To make that happen, the person initiating the dialogue must be able to get herself (or himself) centered, calm, and fully present, with the intention to listen and speak without judgment or blame. This is easier said than done but is also possible—and necessary if there is to be a break in the impasse.
Here are a few guidelines: 12 Steps to Getting Someone to Open Up
1. Create an agreement to discuss the issue. If now isn't a good time, find a moment that works for both of you and commit to it.
2. At the outset, state your intentions for what it is you each seek to have happened out of your interaction. ("I hope that we can both feel closer to and more understanding of each other," or, "I hope that we will both begin to feel more comfortable addressing some of the difficult subjects that we've been avoiding," or, "I hope to be able to listen more openly to your feelings and needs and not be so defensive when you say things that are hard for me to hear.")
3. Be proactive by getting yourself centered, grounded, and open, with a willingness to listen deeply to your partner's spoken words—and underlying feelings.
4. Take responsibility for your own part. Keep in mind that in all relationship breakdowns, both partners play a part. Accepting this responsibility empowers each of you to interrupt the cycle of blame.
5. Regardless of your history or previous failures, keep in mind that it is possible to interrupt even deeply embedded patterns and hold a vision of a successful outcome.
6. Speak in ways that promote trust, respect, safety, and openness.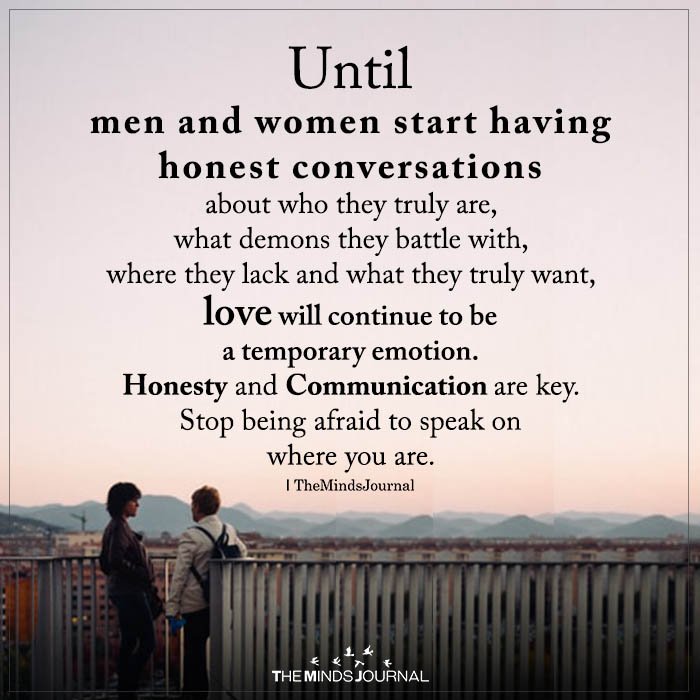 7. Resist the temptation to explain or justify your position; instead, seek primarily to understand rather than to be understood. The time for that will come after your partner feels heard and understood.
8. Remember that feelings of greatest frustration and impatience are likely to arise just when things begin to feel most hopeful.
9. Be patient. These situations generally don't resolve themselves in a single conversation. Breaking entrenched patterns occurs over time, not in a moment.
10. Recognize the incremental improvements during the dialogue, and show appreciation for even the smallest positive results.
Related: Loving An Emotionally Detached Man
11. Don't concern yourself with your partner's intentions, even if they are not completely consistent with yours. Do your best to focus on honoring your own intentions instead.
12. Thank your partner at the end of the dialogue, regardless of the outcome, and express a desire to continue the process at a later date.
Interrupting entrenched relationship impasses is rarely quick or easy, but in nearly all cases, the willingness to take the necessary steps can produce an outcome that far exceeds what either partner previously experienced or even imagined.
What are you waiting for?
We're giving away 3 e-books absolutely free of charge. The Ten Biggest Things We've Learned Since We Got Married, Your Guide to Great Sex, and An End to Arguing. To receive them just click here.
---
Written by Linda and Charlie Bloom
Originally appeared in Psychology Today