Valentine's Day is a day of love, a day when everywhere you look, you are surrounded by romance and sweetness. Couples make all sorts of romantic plans and go on dates to spend some quality time with each other. But what about them who don't have anyone to spend time with on the day of love? How can someone dealing with loneliness on Valentine's Day make themselves feel not so blue?
Dealing with loneliness is a hard thing, especially if it's on Valentine's Day when everyone seems to have their significant other showering love on them. It can be hard witnessing all this and not feeling an emptiness in your heart. But instead of comparing your life with others, there are a few things you can do to take your power back and deal with your loneliness.
It's okay to feel lonely sometimes, but so that you don't drown in its darkness, keep these few reminders in mind. These reminders can help you stay strong, and stop you from feeling alone, helpless, and powerless.
Related: 11 Simple Ways To Feel Less Lonely In Life
9 Reminders For Dealing With Loneliness On Valentine's Day
1. Don't try to escape your loneliness.
Face your pain, because that's one of the best ways to deal with loneliness on Valentine's Day. The more you try to run away from your loneliness, the harder it will chase you; so stop hiding and feel it fully within yourself.
Don't deny yourself the feelings and emotions that are racing in your mind, and give yourself permission to grieve the love and togetherness you want in your life but don't have.
In case you have recently gone through a breakup or you are pining for your ex, then don't judge yourself or beat yourself up over it by thinking you're being a loser. You are human and you have loved this person with all your heart, so missing them is natural. Understand what you're feeling, and process it, because only then will you be able to feel better.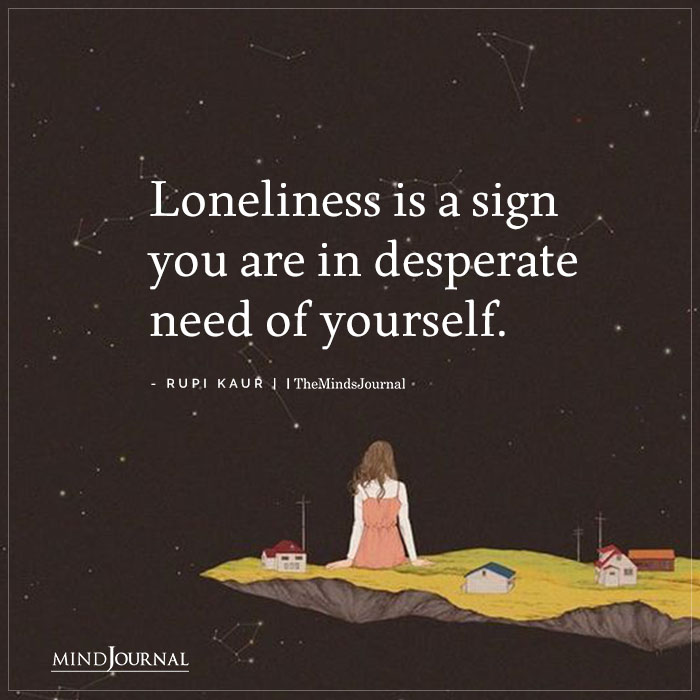 2. Avoid anything that is very romantic or Valentine-y.
Stay away from romantic songs, romantic movies, and anything that comes across as mushy, romantic and instantly reminds you of the fact that you don't have someone special in your life. If you've gone through a breakup recently, and you're single on Valentine's Day, then these things can act as triggers for your loneliness.
There's no point making yourself feel more sad and depressed, so it's probably a better idea to check out other genres of music, movies, and entertainment. Moreover, it's only a matter of one day, so you will be okay; just hang in there!
3. Don't see being single as a curse.
Nothing lasts forever, and the same goes for loneliness. You might feel more lonely on Valentine's Day because everything seems so romantic, perfect, and hunky-dory around you, but you need to realize that no matter how amazing it feels to be in a relationship, being single is not a curse or a bad thing in any way.
Don't think that being in a relationship is a one-way ticket to happiness because it's not. Don't let your relationship status decide your happiness, and don't beat yourself up just because you're single. Being single can teach you a lot about yourself, and a few years down the line, you may even thank yourself for not settling just because you felt lonely.
Related: Being Single: 9 Science-Backed Benefits Of A Single Lifestyle
4. Focus on what you DO have, rather than what you DON'T.
Yes, it might feel like a challenge to look for the silver lining when you're dealing with loneliness on Valentine's Day, but that is exactly what you need to do to feel better. Gratitude is a powerful thing, and the more you practice it, the more you will see your life changing before your eyes.
Instead of feeling miserable about what you don't have on Valentine's Day, why not think about all the things that you do have?
If you shift your focus to all those beautiful things you have in your life, like your family, friends, your loyal pet, good health, etc., it will instantly make you feel happier and warm on the inside. You will quickly realize that you are not as alone as you think you are.
5. Do a social media detox.
One of the best things you can do to feel less lonely on Valentine's Day is by staying off social media. Rather if you have been planning to do a digital detox for quite some time, Valentine's Day is the perfect day for it. Whether you like it or not, all the couples you know are definitely going to post lovey-dovey pictures on social media with their spouses and partners.
Rather Valentine's Day is one of the most popular days for posting pictures with your significant other. So if you're someone who is grappling with loneliness on that day, then it's a good idea to involve yourself with other things, instead of scrolling through your social media continuously.
Related: How To Crush Loneliness And Enjoy Being Alone
6. Visit a therapist if you feel too overwhelmed, depressed or lonely.
If things start to seem too suffocating, depressing, and lonely, then scheduling an appointment with a therapist might be a good idea. Valentine's Day can prove to be too much sometimes, and it's okay to talk to someone who can help you and guide you through all this.
Loneliness can be pretty messy sometimes and it's perfectly okay to reach out for help when things get too much to handle.
If you don't have a therapist, then you can go for many online services that can help you feel better about yourself. You can ask your family and friends about their therapists and enquire whether they can recommend someone good. The bottom line is, it's always okay to seek help when it comes to dealing with loneliness on Valentine's Day.
7. Don't give Valentine's Day too much importance.
If you're single on Valentine's Day, then treat this day like any other day, and try not to think too much about it. Go about your day doing what you do every day, and stick to your daily schedule. Refrain from thinking about romance, chocolates, gifts, and anything Valentine-y, and you will be fine.
If you treat this day like every other day, it will prevent you from dwelling on your loneliness the whole day. You won't even have to go out of your way to make plans with your friends, since that will bring your attention back to the fact that you are feeling lonely. So relax and go about your day, and everything will be fine.
8. Make fun plans with your single friends.
So what if you don't have a date? Or you are single on Valentine's Day? So are a lot of people out there, including some of your friends! Make plans with them, hell, plan a date night with all your single friends and have the time of your life. Spending time with people who are in the same boat as you will make you feel less lonely and sad.
Whatever plans you make, make sure that they are exciting, upbeat, and energetic; there should be no scope for feeling lonely. Plan a sleepover or a pajama party, or a cocktail night, or go to a nice restaurant for dinner – the options are endless! You will not just have fun, you will also feel happy to spend time with people who care about you.
9. Trust your loneliness to guide you on the right path.
Feeling lonely is not a very pleasant feeling, is it? But if you look closely, it can sometimes help you, but only if you let it. Loneliness can help you understand the value of connections and genuine relationships. Let your loneliness guide you towards doing what you need to do to be happy.
You can reconnect with your friends with whom you haven't spoken in a long time, you can spend some much-needed quality time with your family, or simply just enjoy being by yourself. Bids for connection doesn't always have to be with others, it can be with yourself too.
Related: 5 Ways To Immediately Feel Less Lonely
Dealing with loneliness on Valentine's Day can be crushing, but you don't have to let it bring you down. Love yourself, lean on your family and friends for support, and most importantly, be there for yourself. And always remember that it's just another day on the calendar.
---