My husband and I were together for eleven whole years before we got married, but it's only since saying our vows that the world has expressed displeasure with my propensity for traveling solo.
Eleven years isn't an obscenely large amount of time to maintain boyfriend-girlfriend status for high school sweethearts, but it's a decent period in which to thoroughly get to know one another. We began dating on April 1, 2005. And by that July, I had absconded to the tiny town of Villa Del Totoral in the Argentinean countryside, where my uncle lived at the time.
It was during this adventure that I recognized my dependence on others for keeping me entertained, structured and even fed. I was 15, but I knew then and there that my reality was whatever I made of it, an epiphany common to travelers who spend a lot of time alone. It was obvious how travel and the challenges it presents could impact my self-awareness in a positive way. There was never a question of whether I would continue on that month long trip rather than prioritize my young relationship.
There was never a question of whether I would continue on that month long trip rather than prioritize my young relationship.
Sure, we were teenagers ― and at that age it's not unusual to see friends and lovers disappear for a few weeks with their families or away to camp ― but for my relationship, it immediately set the expectation that travel would always be a big part of my life, and an important one at that. This was cemented the following summer when I once again took off, this time to Ecuador and the Galapagos.
My desire to explore the world on my own continued on that trajectory, always with the support of my partner, friends and family.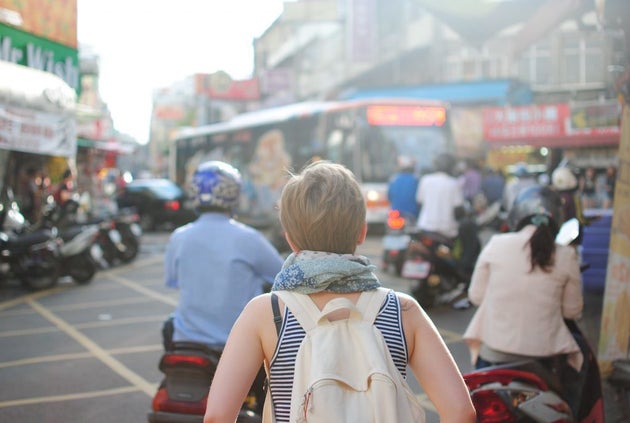 But that attitude took a turn once the rings were on and the papers were signed.
Not for my partner, who continued urging me to pursue the solo traveling habit that I had let die down for the prior few years, but among my peers and the world at large.
Immediately following the wedding, I began planning a two month trip to Central America to gather photos and stories for my wildlife magazine, The Naturalist. I was pretty damn excited to be getting back out on the road, testing my mettle and rebuilding my resilience while pursuing a lifelong dream, the kinds of personal improvement catalyzed by travel. I never once considered it an affront to the commitment my peers had recently witnessed, a commitment that existed well before it became officially recognized by the government.
Others weren't so convinced:
"He's letting you travel alone for that long?" they asked, suggesting that my husband is somehow responsible for my actions."Don't you think he'll leave you while you're gone?" I was warned. But let's face it: If he wants to jump ship because I peaced out for a few weeks, then he's probably not the person I want to grow old with. "Didn't you just get married?" asked many, implying that being a wife means being tied to her husband's hip.