Everyone wants to find their soulmate, and live happily ever after. But how can you know who your soulmate is? How can you find out that the person you are dating, is your true soulmate?
Many people believe that there is a "special person out there waiting for me", and my job is to find him or her so that we can spend the rest of our lives in bliss.
This is a particularly popular and seductive idea because it suggests that once I've located the person of my dreams, the work is over.
It also suggests that there is only one person with whom I am destined to have this special relationship.
On a planet of 7 billion souls, finding that right one is a daunting prospect. Consider instead the possibility that there may be many potential mates with whom it is possible for me to experience a soulful connection, and that the real work is not just about the finding, but also about what happens after we have found each other.
Related: How To Recognize A Soulmate: 10 Elements Of A Soulmate
1. A soulmate is not necessarily somebody with whom it's always fun to be with or even someone with whom there is an intense attraction. They don't always fit our picture (physically and otherwise) of our ideal partner, nor do they always make us feel joyful and ecstatic.
2. A soulmate is someone with whom you will discover the depths of what and who is in your soul. This is not always fun or pleasurable. Sometimes it's challenging. What we see in our soul may not always be easy to fully embrace, but it's who we are.
3. While a soulmate may not always satisfy all of our desires, they bring into our lives what we need in order to do the inner and interpersonal work that is necessary in order to experience wholeness within ourselves and greater connectivity with others.
4. A soulmate is someone with whom we provide mutual assistance to each other in the process of becoming more conscious and loving human beings.
While the end result is incredibly fulfilling, the process of getting there generally isn't consistently pleasurable. It includes the recognition of those aspects of our personalities that we have denied or disowned or would prefer to remain unaware of. Consequently, not only is it likely that your soulmate will bring forth some of your least (as well as most) attractive qualities, but you will probably also provoke similar responses in them as well.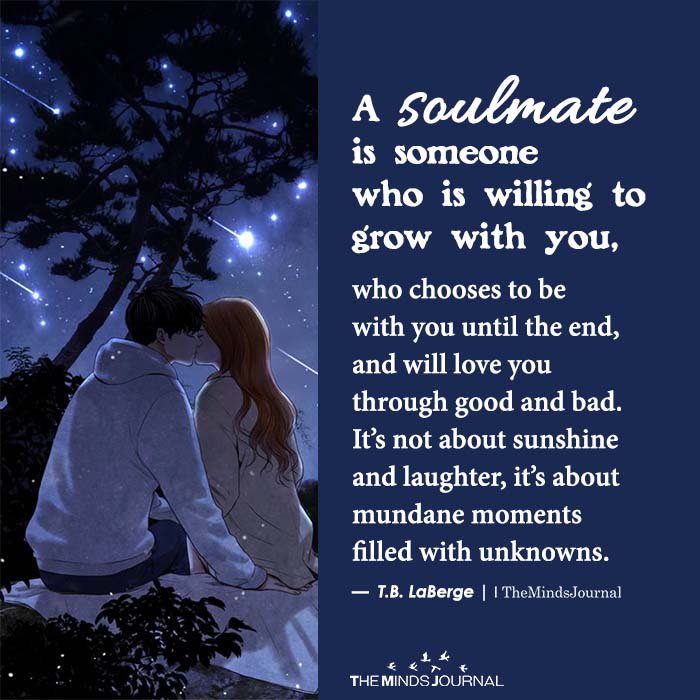 While this may seem more like a prescription for disaster than one for ecstasy, it actually can be the fast track to enlightenment. As anyone who has ever chosen the path of the relationship as a spiritual practice will attest, there is more self-knowledge to be found in committed partnership than there is in a lifetime of meditation.
Not that there's anything wrong with meditation, or with being in a relationship in order to find companionship, pleasure, and security. But for those who really want to get the biggest bang for their buck, creating a soul mate relationship with a committed partner is the direct path.
While there are vast numbers of people who are potential soulmates, the person that we connect with does matter. If there isn't an attraction between us, the motivation to strengthen our love and do the work that is necessary to deepen it will be weak. And make no mistake about it; regardless of the intensity of the attraction, we will be tested.
Challenges to our relationship are not only inevitable, but they are necessary in order to strengthen the bond. We do get stronger at the broken places.
The perfect partner is not one with whom I will always feel happy. That person doesn't exist. He or she is someone with whom I share a commitment to honor the needs and gifts of my soul, someone who will bring into my life the qualities that will help me to live more generously and openheartedly; to cultivate, what the Dalai Lama has referred to as the "warm heart".
Having relationship upsets and disappointments doesn't necessarily mean that we're a mismatch. These things happen, even in the best partnerships and they are not indicators that we're not meant to be together. They are part of the process. The real question has to do with whether or not each of us is willing to learn and grow ourselves into whole, loving human beings.
Related: Soulmate Signs and Signals: 7 Identifying Signs Of A True Soulmate
The willingness to take this commitment on and share it with another is much greater when we recognize the value and preciousness of such an agreement. And as we practice living in integrity with the truth of who we really are, the benefits and gifts from this partnership become greater and more rewarding over time. The process becomes self-reinforcing. Whether you've been on this path for decades or are just considering dipping your toes in the water, it's never too late (or too early) to begin. What are you waiting for?
We're giving away 3 e-books absolutely free of charge. The Ten Biggest Things We've Learned Since We Got Married, Your Guide to Great Sex, and An End to Arguing. To receive them just click here.
---
Written by Linda and Charlie Bloom
Originally appeared in Psychology Today